Posted by Born To Be Sassy on Oct 29th 2022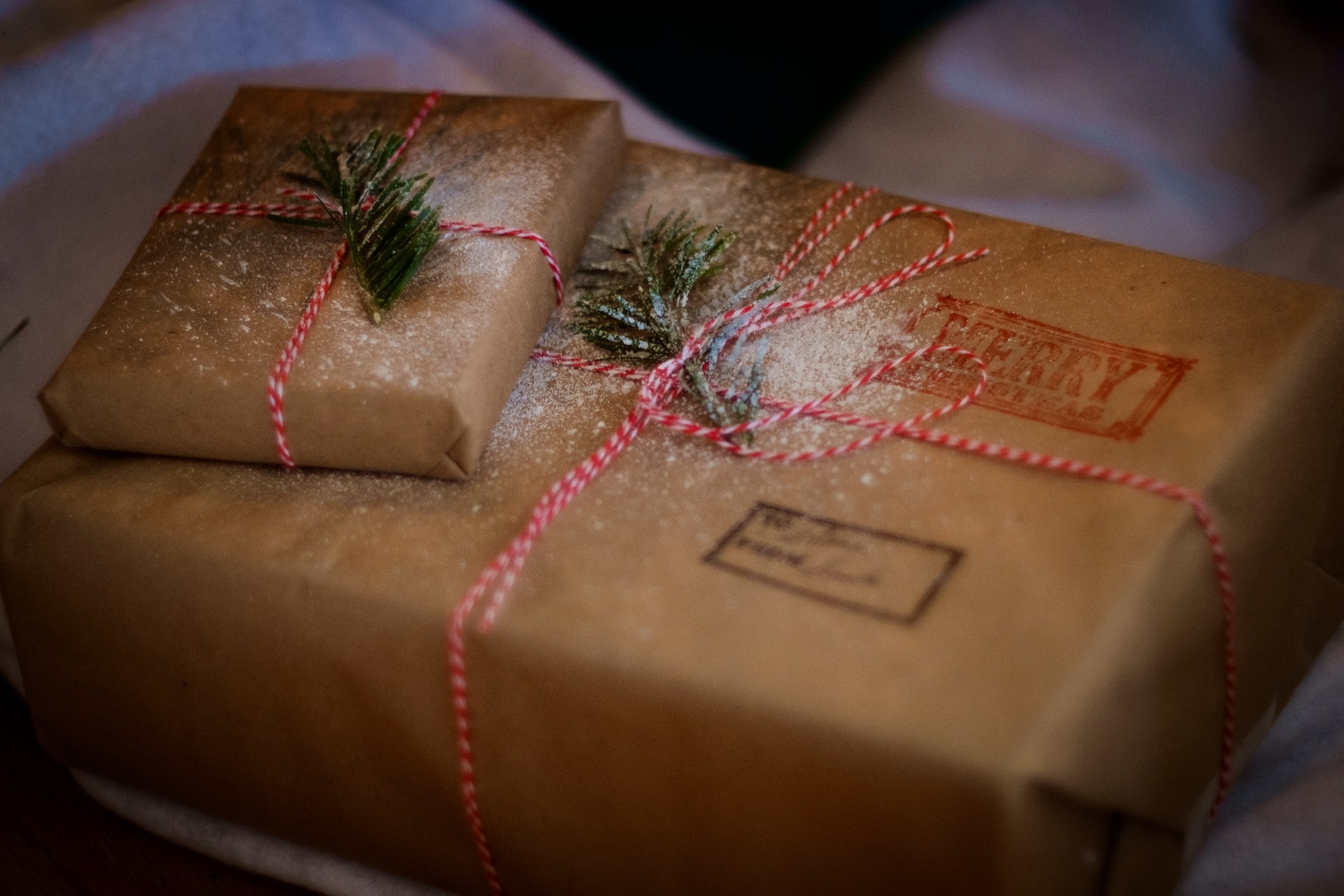 With the holidays just around the corner, we're already thinking about what we'll be giving our loved ones. If you're getting your shopping list ready too but are running out of ideas for personalized Christmas gifts for your family, we've got you covered!
At Born To Be Sassy, we have tons of fun, personalized Christmas gifts that make you seem like an expert gift giver! We'll back you up with unique ideas for every member of your family. So check out our breakdown of what you can give your own family, extended family, and even your bestie's family for this holiday season!
1. Monogramming
Monogramming is always our go-to choice for personalized Christmas gifts for families. You can put a monogram on practically anything, and it immediately declares the item's owner so everyone can see who it belongs to.
Our monograms are highly customizable, and you have options for monogram size, placement, color, and so much more! While we offer monogramming on practically everything, these are our top monogrammed products for fun, personalized Christmas gifts.
Sweatshirts
There's nothing like waking up on a cold winter morning and throwing on a hoodie before starting your day. With our monogrammed sweatshirts, you can gift the coziness of warmth on a chilly day to anyone in your family. Our sweatshirts and hoodies come in a range of sizes so you can dress everyone from your tween to your spouse in ultra-soft comfort.
Tees
T-shirts are part of everyone's casual wardrobe, so they make a great choice for personalized Christmas gifts for families! Whether they use it for laundry day, workouts, running errands, or lounging around the house – everyone uses t-shirts.
Browse our collection of different t-shirt cuts, colors, and patterns to find the perfect one to monogram for your friends and family. From v-necks and button-downs to tie-dye and pastels, there's something for everyone in this collection.
And if your recipients prefer tank tops to tees, we have those too!
PJs
What's more fun than a family game night or movie session where everyone is wearing matching PJs? We love the idea of lounging around with the fam, and everyone is wearing the same set of flannels. With our collection of monogrammed lounge options, we guarantee you'll find an excellent fit for everyone in your family with this fun, personalized Christmas gift.
2. Family Drinkware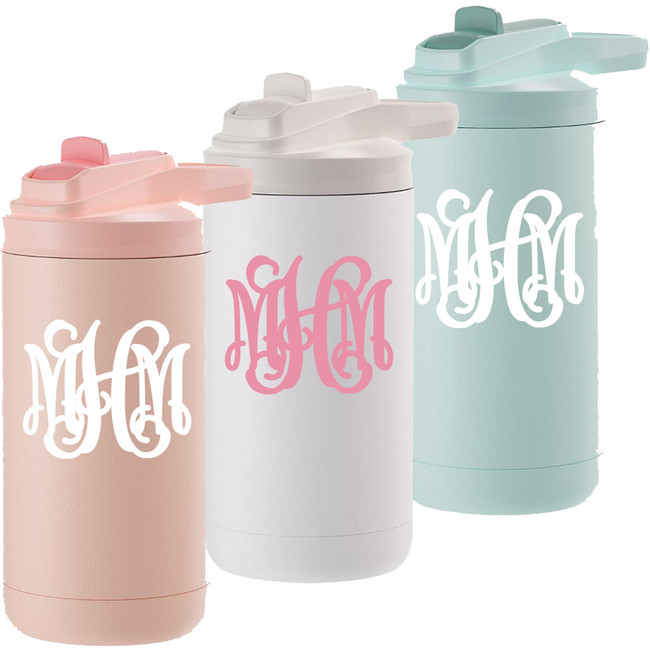 Another of our favorite personalized Christmas gifts for families is drinkware. Some people can't live without a travel mug, while others take their water bottles everywhere. Whatever your family's preference, we can meet it with a collection of drinkware you can customize to fit their personality and lifestyle.
Mugs
Do you love sipping a warm cup of coffee or tea with your spouse in the morning? Are hot chocolate mugs after a day in the snow a family tradition? Get everyone their own special cup when you browse our mug collection to discover tons of shapes, sizes, colors, and even monogramming options.
Water Bottles
Staying hydrated is essential to your overall health, yet so many people forget to drink water throughout the day. Look out for the health of your loved ones with a personalized reminder to get those ounces in! From double-walled tumblers that are great for hot or cold beverages to smaller stainless steel water bottles for kids, these personalized Christmas gifts are great for all families.
Travel Cups
If you have family members and friends who spend a lot of time on the road early in the morning, they'll probably love a travel cup that keeps their beverage at the perfect temperature all day long. Explore travel mugs in a variety of shapes and sizes to find the one that fits in their cup holder for easier sipping on the road.
3. Matching Winter Accessories
Another idea for fun, personalized Christmas gifts? Winter accessories! You don't need to know anybody's exact size to buy them a well-fitting beanie or a pair of gloves. And we're sure they'll be grateful for them the next time a blizzard hits, and they must head outdoors!
Hats
In addition to beanies and bucket hats, we also have a collection of headbands and muffs that are perfect for keeping your head dry and ears warm when it's windy and snowing outside. Make sure your family is always toasty with this practical personalized Christmas gift for families.
Scarves
Fashionable and cozy, scarves are one of our favorite everyday accessories for winter. Browse simple knit scarves in every color of the rainbow to find neutral styles for every age, gender, and preference!
4. Cozy Essentials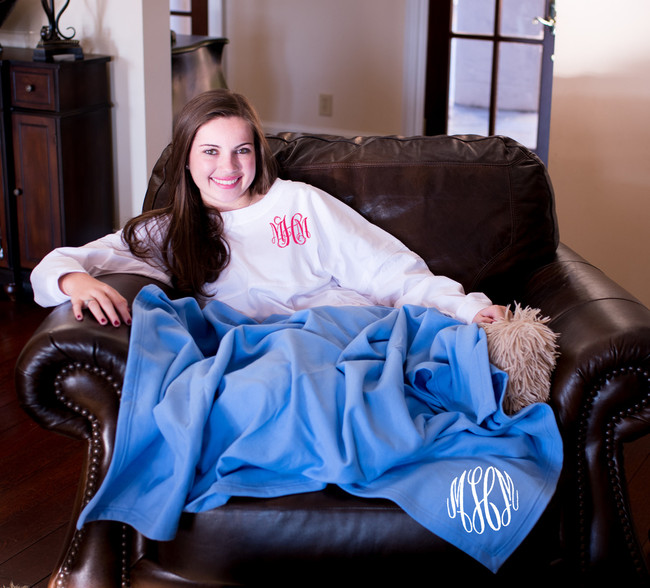 Winter is the time to sit by the fire, sip hot cocoa, and read a book in cozy comfort. What could enhance this experience more than wrapping up in a blanket or lounging on the couch in a fluffy robe?
With our cozy essentials, you can finish up your holiday shopping in no time! Choose from sherpa, fleece, and flannel blankets, as well as satin, woven, and plush robes, to customize materials, color, and monogramming to your recipient's preferences.
Shop Christmas Gifts at Born To Be Sassy
When you shop personalized Christmas gifts for families with us, we make it quick and easy to find everything you need.
Make your selections and enjoy quick production times, free shipping on orders over $100, and easy exchanges on all non-monogrammed items. While monogrammed items are final sale, if there are any errors in the design made by our team, we'll be happy to replace them with the corrected design.

So are you ready to start shopping for personalized Christmas gifts for your family? Make Born To Be Sassy your only stop and discover a massive selection of customizable styles, unique gifts for every personality, and amazing customer service!